Project Lakhta is the internal name for the operation that Yevgeniy Prigozhin's Internet Research Agency is running to interfere in elections across the Western world, according to the Robert Mueller indictments relating to the Russian attacks on the 2016 election.
The op included/includes bots on social media, fake influencers, paid crisis actors, massive propaganda, financial fraud, old-fashioned spying, and more. There is no evidence this operation has ceased its activities — indeed what would be the incentive, following such Great Success??
In fact, prosecutions are still ongoing.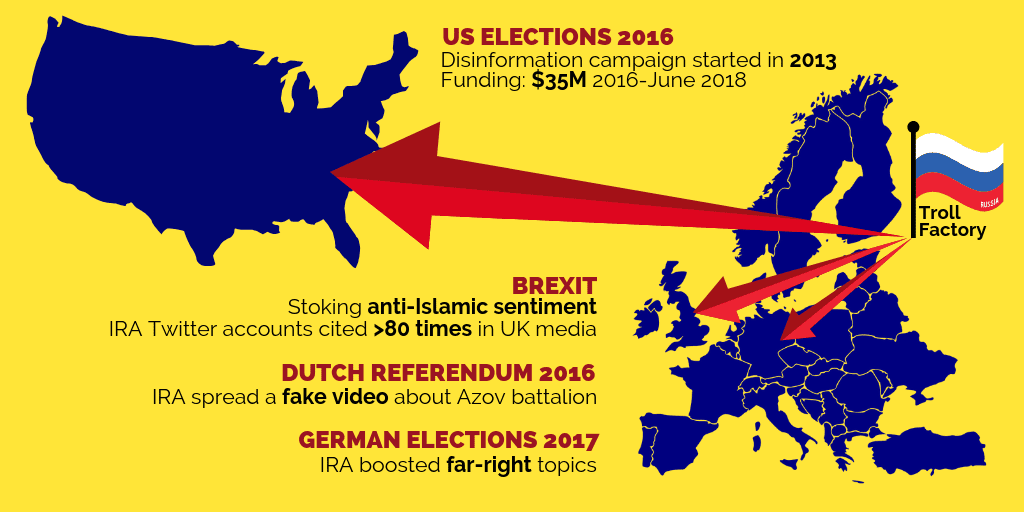 History of Project Lakhta
Project Lakhta was a covert operation ordered by Russian president Vladimir Putin with the goal of interfering in the 2016 U.S. presidential election. The interference aimed to harm the campaign of Hillary Clinton, boost the candidacy of Donald Trump, and increase political and social discord in the United States. The Internet Research Agency (IRA), a Russian troll farm, created thousands of social media accounts to support radical political groups and promote events in support of Trump and against Clinton. The operation also involved computer hackers affiliated with the Russian military intelligence service infiltrating information systems of the Democratic National Committee and Clinton campaign officials, then publicly releasing the stolen files and emails. The U.S. intelligence community, the FBI, and the Senate and House Intelligence Committees conducted investigations into the matter. These investigations concluded that Russian interference was "sweeping and systematic" and "violated U.S. criminal law", but there was insufficient evidence to bring any conspiracy or coordination charges against Trump or his associates (​1​).
Scale of Project Lakhta
In 2018 a Russian national, Elena Khusyaynova, was charged with being a key member of Project Lakhta. Khusyaynova served as the chief accountant of the operation and managed its financial aspects, including paying off Russian political activists posing as U.S. citizens, advertising on social media platforms, and promoting news postings on social networks. Between 2016 and 2018, Project Lakhta's expenses exceeded $35 million and its operating budget was over $10 million. The operation allegedly involved the creation of thousands of fake social media accounts to aggravate political groups and create divides before the election. The charges were unsealed in Alexandria, Virginia, emphasizing that the complaint does not allege that Khusyaynova or the broader conspiracy had any effect on the outcome of an election. In response to these meddling efforts and a recent data breach, Facebook is reportedly seeking to acquire a major cybersecurity firm to enhance its security measures (​2​).