Narcissistic Personality Disorder (NPD) is a mental health condition characterized by (as the name implies) narcissism, including a pervasive pattern of grandiosity, a lack of empathy for others, and a need for admiration. People with NPD often have an inflated sense of self-importance and believe they are special or unique in some way. They may be preoccupied with fantasies of power, success, beauty, or ideal love. However, behind their grandiose façade, they often have fragile self-esteem and are highly sensitive to criticism or rejection.
NPD is part of the Cluster B family of personality disorders. People with NPD tend to exhibit odd, sometimes bizarre behaviors — including word salad, emotional abuse, and other tactics of emotional predators — that are offputting to others and tend to have serious effects on the individual's life.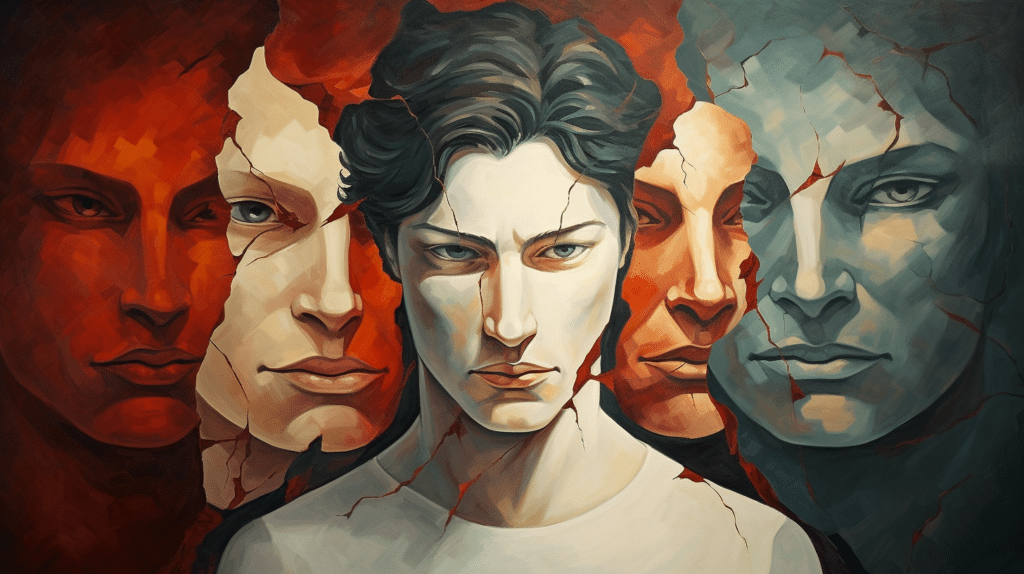 NPD diagnosis
The Diagnostic and Statistical Manual of Mental Disorders, Fifth Edition (DSM-5) outlines the following diagnostic criteria for NPD:
A pervasive pattern of grandiosity, characterized by a sense of self-importance and an exaggerated sense of achievements and talents.
Preoccupation with fantasies of unlimited power, success, brilliance, beauty, or ideal love.
Belief that they are special and unique and can only be understood by other high-status people or institutions.
Need for excessive admiration.
Sense of entitlement, expecting to be treated in a special way or given priority.
Exploitation of others for personal gain; using the tactics of emotional predators; narcissistic abuse.
Lack of empathy, an inability to recognize or care about the feelings and needs of others.
Envy of others or a belief that others are envious of them.
Arrogant, haughty behaviors or attitudes.
The symptoms of NPD may vary in intensity and presentation, but they are typically stable and longstanding. The condition may start in early adulthood and may be diagnosed only after adolescence, as it is difficult to differentiate between normal developmental narcissism and pathological narcissism in childhood.
NPD: Lack of empathy
People with NPD may have difficulty in maintaining close relationships because of their lack of empathy and preoccupation with themselves. They may feel entitled to special treatment and have unrealistic expectations of others. They may exploit others for personal gain and may become angry or hostile when their expectations are not met. Additionally, they may struggle with criticism or rejection and may react with rage or humiliation.
NPD is often co-occurring with other mental health conditions, such as depression, anxiety, and substance abuse. It may also be comorbid with other personality disorders, particularly Borderline Personality Disorder, as individuals with BPD may exhibit traits of NPD, such as a need for attention and admiration.
Treatment for NPD often involves psychotherapy, particularly psychoanalytic or psychodynamic therapies, which aim to explore the underlying psychological factors contributing to the disorder. Cognitive-behavioral therapy may also be effective in addressing maladaptive beliefs and behaviors associated with NPD. However, individuals with NPD may be resistant to therapy, as they may not recognize the need for treatment or may be unwilling to acknowledge their role in the dysfunction.
Types of Narcissistic Personality Disorder
Grandiose Narcissism: This form is characterized by arrogance, dominance, and a need for admiration. Individuals may appear self-confident and assertive but are often preoccupied with fantasies of success and power. This is the classic version of the narcissist that most people think of when they think of NPD.
Vulnerable Narcissism: Unlike the grandiose type, vulnerable narcissists are sensitive and insecure, often feeling unrecognized and inadequate. They may harbor intense envy and resentment towards others and are prone to feeling victimized.
Malignant Narcissism: Malignant narcissists combine aspects of NPD with antisocial behavior, aggression, and sometimes even sadism. This type can be dangerous, as they lack empathy and remorse and may exploit or manipulate others without concern.
Covert Narcissism: This type manifests as hidden or masked narcissism, where individuals may not outwardly display arrogance but still harbor grandiose fantasies and exhibit a lack of empathy. They often feel misunderstood and neglected, leading to passive-aggressive behavior.
Communal Narcissism: Communal narcissists see themselves as especially caring or altruistic, often emphasizing their contributions to others. However, these acts are driven by a desire for recognition and praise rather than genuine empathy or compassion.
Please note that narcissistic personality disorder is a complex and multifaceted condition, and these categories may overlap or manifest differently in each individual. If you have concerns about this disorder or would like more detailed information, consulting a mental health professional would be the appropriate step.