While we wring our hands in the United States over whether or not such a strategy is even conceivable, the erstwhile President of Russia has been running this playbook out in the open in Ukraine and Eastern Europe for some time. With help from Propagandist-in-Chief Vladislav Surkov, Putin has leveraged the open secrets about the psychology of crowds we learned in the late 19th and early 20th century to stir up emotional antagonisms within the political spectrum — to predictable results.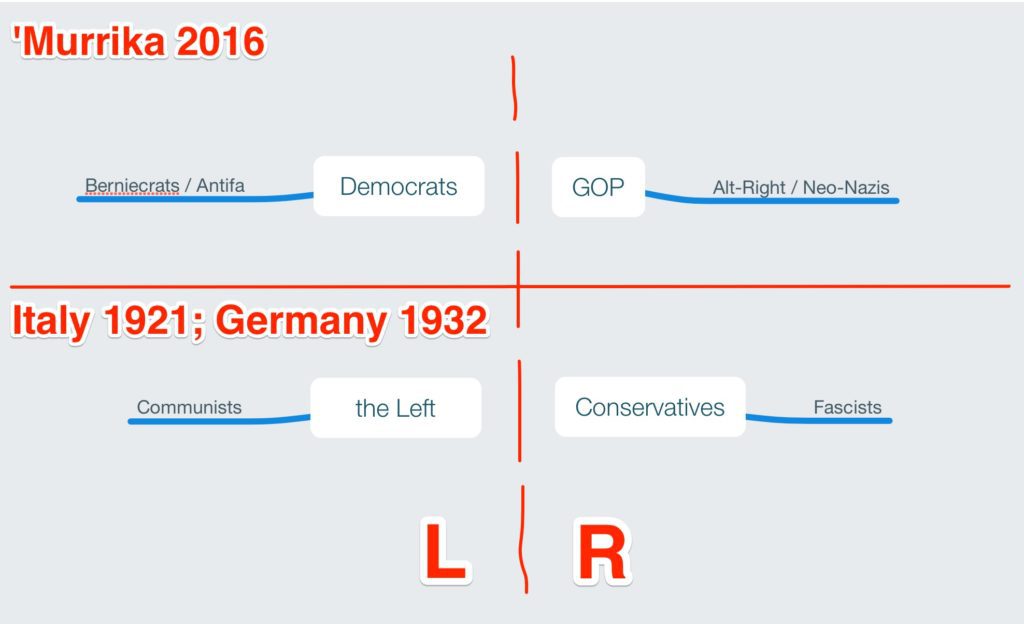 It's no accident that fascism is on the march in America. The conditions have been brewing for some time, predominantly since the Conservative movement began breaking away more militantly from democratic principles and towards authoritarian philosophy (elite rule by force: preferably invisible force via economic hegemony for the middle and upper classes, and violent force / the carceral state for The Undesirables) in the late 1970s and 1980s. All Putin had to do was make use of available prevailing conditions and tools — the rise of social media in the 2000s counterintuitively blew a gaping wide security hole in the American persuasion landscape that Cold War Soviet operatives of the 1960s would scarcely have believed.
Today, as in parts of Europe between the world wars, the U.S. has partisan gridlock within The Establishment sector of politics; this exacerbates the impatience with and contempt for the status quo (aka the Liberal world order) that in some sense naturally congeals at the far right and far left margins of the political spectrum as a simple consequence of the Normal Distribution (the Median Voter Theorem captures this tendency quite succinctly). Under such conditions, an influence campaign like the one Russia wielded against the United States during the 2016 election season was tasked merely with tilting the playing field a little further — a task that platforms like Facebook and Twitter were in some sense fundamentally engineered to accomplish, in exchange for ad revenue.

New World Order? Be careful what we wish for

"Both Italian and German fascists had done their best to make democracy work badly. But the deadlock of liberal constitutions was not something the fascists alone had brought about. 'The collapse of the Liberal state,' says Roberto Vivarelli, 'occurred independently of fascism.' At the time it was tempting to see the malfunction of democratic government after 1918 as a systemic crisis marking the historic terminus of liberalism. Since the revival of constitutional democracy since World War II, it has seemed more plausible to see it as a circumstantial crisis growing out of the strains of World War I, a sudden enlargement of democracy, and the Bolshevik Revolution. However we interpret the deadlock of democratic government, no fascist movement is likely to reach office without it."

— Robert O. Paxton, The Anatomy of Fascism
100 years on, it feels like we're back at the start.