Newspeak Dictionary
George Orwell's 1984 lexicon is a lingua franca of authoritarianism. Newspeak words have the stamp of boots on pavement, and are most likely to be found in the chryons of the OAN Network.
The terse portmanteus are blunt and blocky, like a brutalist architecture vocabulary. Their simplicity indicates appeal to the small-minded masses for easily digested pablum.
About Newspeak
Newspeak is a fictional language created by George Orwell for his dystopian novel 1984, published in 1949. The language serves as an essential tool for the oppressive regime, known as The Party, to control and manipulate the population of Oceania. Newspeak is intentionally designed to restrict the range of thought, eliminate words that convey dissent or rebellion, and enforce political orthodoxy. The language accomplishes this by reducing the complexity of vocabulary and grammar, condensing words into simplified forms, and eliminating synonyms and antonyms. The Party aims to eliminate the potential for subversive thoughts by ensuring that the language itself lacks the necessary words and expressions to articulate them.
In Orwell's world, Newspeak works hand in hand with the concept of "doublethink," which requires individuals to accept contradictory beliefs simultaneously. This manipulation of language and thought is central to maintaining the Party's power and control over the populace. Newspeak's ultimate goal is to render dissent and rebellion impossible by making the very thoughts of these actions linguistically unexpressable. As a result, Newspeak serves as a chilling representation of how language can be weaponized to restrict personal freedoms, suppress independent thought, and perpetuate an authoritarian regime.
Newspeak rises again
Those boots ring out again, from Belarus to Hungary to the United States. There are book burnings and the defunding of libraries in multiple states. From Ron DeSantis to Trumpian anti-intellectualism to the rampant proliferation of conspiracy theories, It's a good time to brush up on the brutalism still actively struggling to take hold.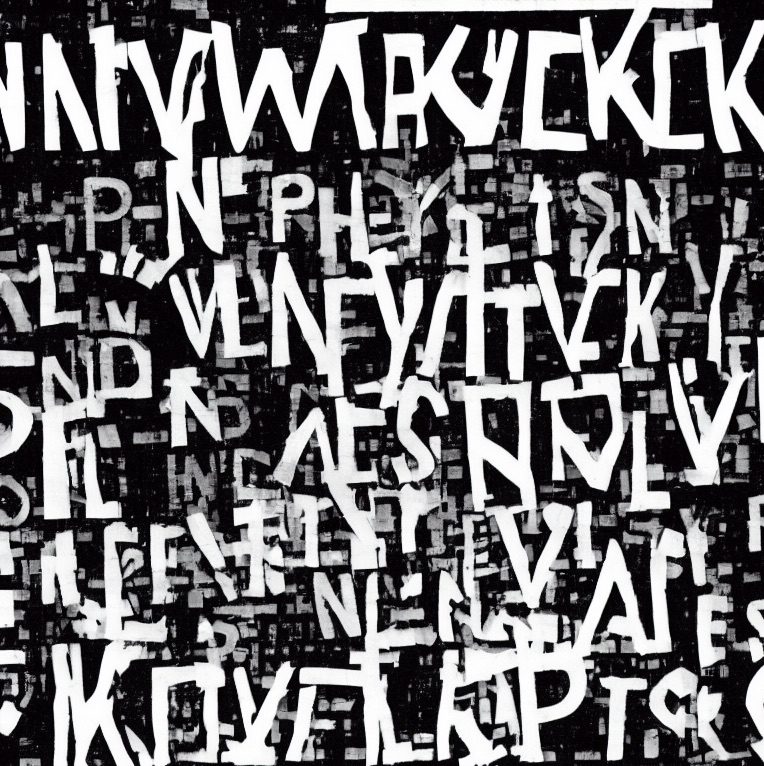 Newspeak Dictionary
| Newspeak term | Definition |
| --- | --- |
| ante | The prefix that replaces before |
| artsem | Artificial insemination |
| bb | Big Brother |
| bellyfeel | The blind, enthusiastic acceptance of an idea |
| blackwhite | To accept whatever one is told, regardless of the facts. In the novel, it is described as "...to say that black is white when [the Party says so]" and "...to believe that black is white, and more, to know that black is white, and to forget that one has ever believed the contrary". |
| crimestop | To rid oneself of unorthodox thoughts that go against Ingsoc's ideology |
| crimethink | Thoughts and concepts that go against Ingsoc, frequently referred to by the standard English "thoughtcrime", such as liberty, equality, and privacy, and also the criminal act of holding such thoughts |
| dayorder | Order of the day |
| dep | Department |
| doubleplusgood | The word that replaced Oldspeak words meaning "superlatively good", such as excellent, fabulous, and fantastic |
| doubleplusungood | The word that replaced Oldspeak words meaning "superlatively bad", such as terrible and horrible |
| doublethink | The act of simultaneously believing two, mutually contradictory ideas |
| duckspeak | Automatic, vocal support of political orthodoxies |
| facecrime | A facial expression which reveals that one has committed thoughtcrime |
| Ficdep | The Ministry of Truth's Fiction Department |
| free | The absence and the lack of something. "Intellectually free" and "politically free" have been replaced by crimethinkful. |
| –ful | The suffix for forming an adjective |
| fullwise | The word that replaces words such as fully, completely, and totally |
| goodthink | A synonym for "political orthodoxy" and "a politically orthodox thought" as defined by the Party |
| goodsex | Sexual intercourse only for procreation, without any physical pleasure on the part of the woman, and strictly within marriage |
| goodwise | The word that replaced well as an adverb |
| Ingsoc | The English Socialist Party (i.e. The Party) |
| joycamp | Labour camp |
| malquoted | Inaccurate representations of the words of Big Brother and of the Party |
| Miniluv | The Ministry of Love, where the secret police interrogate and torture the enemies of Oceania (torture and brainwashing) |
| Minipax | The Ministry of Peace, who wage war for Oceania |
| Minitrue | The Ministry of Truth, who manufacture consent by way of lies, propaganda, and distorted historical records, while supplying the proles (proletariat) with synthetic culture and entertainment |
| Miniplenty | The Ministry of Plenty, who keep the population in continual economic hardship (starvation and rationing) |
| Oldspeak | Standard English |
| oldthink | Ideas from the time before the Party's revolution, such as objectivity and rationalism |
| ownlife | A person's anti-social tendency to enjoy solitude and individualism |
| plusgood | The word that replaced Oldspeak words meaning "very good", such as great |
| plusungood | The word that replaced "very bad" |
| Pornosec | The pornography production section (Porno sector) of the Ministry of Truth's Fiction Department |
| prolefeed | Popular culture for entertaining Oceania's working class |
| Recdep | The Ministry of Truth's Records Department, where Winston Smith rewrites historical records so they conform to the Party's agenda |
| rectify | The Ministry of Truth's euphemism for manipulating a historical record |
| ref | To refer (to someone or something) |
| sec | Sector |
| sexcrime | A sexual immorality, such as fornication, adultery, oral sex, and homosexuality; any sex act that deviates from Party directives to use sex only for procreation |
| speakwrite | A machine that transcribes speech into text |
| Teledep | The Ministry of Truth's Telecommunications Department |
| telescreen | A two-way television set with which the Party spy upon Oceania's population |
| thinkpol | The Thought Police, the secret police force of Oceania's government |
| unperson | An executed person whose existence is erased from history and memory |
| upsub | An upwards submission to higher authority |
| –wise | The only suffix for forming an adverb |
See also: