It feels like the 1930s all over again — and with good reason. The rise of American fascists and right-wing extremism around the world has been a known trend for decades, and America's past flirtations with fascism had been largely swept under the rug by the then anti-semites who tried to put a stop to FDR's New Deal and prevent the U.S. from getting into World War II.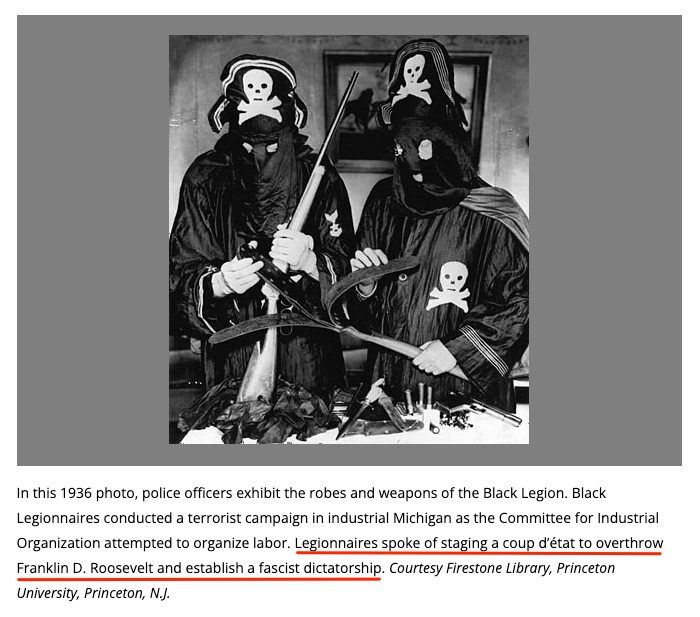 They fought against labor unions and labor organizers, often using private militia as henchmen to do their dirtywork with plausible deniability for themselves. The Ku Klux Klan — the principle paramilitary organization formed during Reconstruction to undo egalitarian gains from the Civil War — was just one of many instruments put to use in service of plutocratic aims to quell any "communist awakening" amongst their workers, lest they get any uppity ideas for themselves. They fell for the popular conspiracy theories of their time, which included Hitler's bogus assertion that Jewish bankers controlled the world and had to be stopped before they destroyed the white race.
Fascist revanchism
Those fascists, butthurt over America's overwhelmingly popular decision to enter the war and stop Hitler from exterminating the Jews, seethed with jealousy at the post-war "liberal consensus" that flourished alongside the booming US economy, propelled first by the war effort and later by the peacetime success of the New Deal's long shadow and the burgeoning of the American middle class.
The American fascists turned into the John Birch Society, and the McCarthyites, and the Libertarians, and the Moral Majority, and the Gingrich Revolution, and the Tea Party, and the MAGA / QAnon stew sloshing around mass media. The kooks on the far right — the kind of ilk so cray cray that even William F. Buckley excommunicates you from the Republican Party — have taken over the hen house now. Outrage sells, as Facebook well knows — and as two-bit dictators around the world have bribed Mark Zuckerberg to brainwash the masses using the most inanely illogical propaganda prolefeed, the world tilts dangerously towards authoritarianism and the end of our democracy as we know it. And with it, all hope for truth and light into the future for some time to come — the equivalent of a political meteor hitting the Earth.
The American fascists are still around, and now they have tools of propaganda that Goebbels could never have even wet dreamed of. They're more powerful and more well-connected — to other sociopaths, malignant narcissists, and other pathological cult-leader types who might be of transactional service to each other from time to time. Many of them cling to ideas of Christian nationalism and Strict Father Morality. We'd be wise to keep an eye on these folks.
| Name | Type | Location | Known for |
| --- | --- | --- | --- |
| Greg Abbott | Politician | Texas | The 48th governor of Texas since 2015 who has presided over multiple energy grid disasters, a self-induced economic fiasco at the border, and ghoulish vigilante legislation designed to terrorize women seeking abortion services, and a perversion of the child sex trafficking apparatus to instead target and tyrannize trans youth |
| Roman Abramovich | Foreign agent | | Russian oligarch close to both Putin and Trump |
| ACU Strategic Partners | Foreign agent | | A company seeking to build nuclear power plants in the Middle East in partnership with a sanctioned Russia company; Mike Flynn was working for them without having disclosed it to the US government as required. |
| Sheldon Adelson | Businessperson | Las Vegas, NV | CEO billionaire of the Sands Corp casino empire (died, 2021) |
| AggregateIQ | Corporation | | Canadian data firm connected to Cambridge Analytica parent company SCL Group that played a role in spreading Brexit propaganda |
| Roger Ailes | Media personality | Deceased | Primogenitor of Fox News whose downfall came over dozens of women testified to his decades of sexual assault and blackmail behaviors |
| Todd Akin | Politician | Missouri | Politician who lost his Senate race to Clairse McCaskill in 2012 when he made the comment on TV about women having a way to "shut the whole thing down" to avoid becoming pregnant if raped. |
| Nelson W. Aldrich | | | |
| Ali Alexander | Extremist | | One of the primary organizers of the Stop the Steal rally on January 6 that turned into and/or attempted to mask a coup attempt |
| Samuel Alito | Judge | Washington, DC | Supreme Court Justice who penned a draft opinion overturning Roe v. Wade, riddled with Christian nationalist tropes and arbitrary Originalist interpretations |
| American Energy Alliance | Non-profit | | A tax-exempt nonprofit that advocated for corporate-friendly energy policies. Koch's Freedom Partners donated $1.5 million in 2012. |
| American Legislative Exchange Council (ALEC) | Non-profit | | Corporate-funded nonprofit that writes legislation for Republican legislatures, including spearheading the efforts to wrest partisan control over election results in 49 states. |
| Americans for Prosperity | PAC | | The Koch Brothers' Libertarian political advocacy arm |
| Philip Anschutz | Businessperson | Colorado | CO oil and entertainment billionaire and founder of Qwest Communications |
| Michael Anton | | | |
| Lee Atwater | Political Operative | | Infamously brutal Republican strategist for Ronald Reagan and George H.W. Bush who promoted the "abstraction" of racism via Southern Strategy and ran the infamous Willie Horton ad against Michael Dukakis in 1988. |
| Michele Bachman | Politician | MN | Minnosota Republican politician who was the first woman in her state to be elected to the House of Representatives, she is known for her extremist Dominionist views |
| Steve Bannon | Media personality | Houseboats | Former Breitbart provocateur who joined the Trump administration as a key advisor and dark propagandist for Trump intent on sowing chaos |
| Ross Barnett | | | |
| William Barr | Public Sector | | Donald Trump's Attorney General who shielded him from public awareness of his crimes, corruptions, and compromises during the 45th presidency. |
| Maurice Barres | Author | France | French nationalist author in the early 20th century who introduced Great Replacement theory |
| Louis Beam | White Supremacist | | |
| Roy Beck | White Supremacist | | Executive Director of NumbersUSA, member of the white supremacist Tanton Network |
| Andy Biggs | Politician | AZ | House Republican subpoena'd by the January 6 Commission for his role in the attempted coup |
| Black Legion | Extremist | Michigan | Secret society of black-hooded terrorists working in MI against labor unions and labor organizers in the 1930s. Legionnaires talked of staging a coup to oust FDR and imposing a fascist regime in the United States |
| David Bogatin | Oligarch | NYC | A top figure in the Russian mafia who bought 5 luxury condos in Trump Tower to launder money, he admitted in 1987. |
| Jacob Bogatin | Oligarch | | David Bogatin's brother, and a partner of notorious Russian mob moss Semion Mogilevich |
| John Wilkes Booth | Criminal | Deceased | Stage actor and Confederate sympathizer who shot Abraham Lincoln in the back of the head in April 1865, a few months after his re-election in 1864. |
| L. Brent Bozell | Extremist | | BFF of William F. Buckley and author of Conscience of a Conservative to support Barry Goldwater's candidacy in 1960. |
| Harry and Lynde Bradley | Kochtopus | | Midwesterners who built their wealth on defense contracts |
| Andrew Breitbart | Media personality | | Founded both Brietbart and the Huffington Post |
| Anders Breivik | Extremist | Oslo, Norway | Mass murderer who killed 77 people in Oslo, Norway as inspired by the white supremacist ideology of Great Replacement theory |
| Mo Brooks | Politician | Huntsville, AL | House Republican from Alabama subpoena'd by the January 6 Committee for his role in the attempted coup |
| Brother's Circle | Criminal | | Organized crime gang pursued by then-FBI head Robert Mueller circa 2011 |
| Michael Brown | | Ferguson, MO | Unarmed black man killed by the police in Ferguson, Missouri, sparking a series of riots in the city. |
| Pat Buchanan | Politician | Washington, DC | Politician and paleoconservative who worked for presidents Nixon, Ford, and Reagan before running against incumbent George H.W. Bush in 1992; widely considered a bigot, racist, and antisemite. |
| William F. Buckley Jr | Media personality | | |
| Doug Burley | Political Operative | | Founding and leading both The Family and the National Prayer Breakfast of right-wing power brokers |
| Cambridge Analytica | Corporation | London, UK | Data firm implicated in the propaganda campaigns of both Brexit in 2015 and Donald Trump in 2016 that stole hundreds of millions of Facebook profiles and mined the treasure trove of information for weaknesses to manipulate in attempts to persuade |
| Renaud Camus | Author | France | French writer and critic who created the recent 2011 formulation of the Great Replacement Theory |
| Tucker Carlson | Media personality | NYC | Fox News evening opinion anchor and fish stick heir who promotes the Great Replacement conspiracy theory to his primetime audience of older white men. |
| Doug Casey | Businessperson | | Ayn Rand devotee and "anarcho-capitalist" who specializes in how to profit from turmoil |
| Michael Catanzaro | Lobbyist | | Partner at the CGCN Group lobbying firm who headed "energy independence" for the Trump transition team. |
| Cato Institute | Think Tank | | |
| Madison Cawthorn | Politician | NC | |
| Center to Protect Patient Rights | Kochtopus | | Dark money group funded by the Kochs to attack the ACA with fearmongering and vitriol |
| Mike Cernovich | Media personality | | |
| CGCN Group | Lobbyist | | Lobbyist for the Koch brothers |
| James Chaney | Activist | Neshoba County, MS | One of 3 civil rights activists murdered by local white supremacists when engaging in non-violent civil disobedience, along with Michael Schwerner and Andrew Goodman |
| Jeremy Joseph Christian | Extremist | Portland, OR | stabbed 3 people who tried to intervene while he was hurling anti-Muslim slurs at 2 young women in Portland, OR |
| Chris Christie | Politician | | Former governor of NJ and former Trump supporter and transition team lead who became a Trump critic |
| Michael Cohen | Businessperson | NYC | Donald Trump's personal lawyer, sentenced to 3 years in federal prison for felony crimes, including campaign finance crimes |
| Steven A. Cohen | Businessperson | | Finance (SAC Capital Advisors) |
| Roy Cohn | Political Operative | Deceased | Lawyer who represented Senator Joseph McCarthy in the infamous televised 1954 hearings, and later went on to become a mafia-connected fixer in NYC and mentor to budding real estate developer Donald Trump |
| Competitive Enterprise Institute | Think Tank | Washington, DC | A Washington think tank that had been bankrolled by fossil fuel industries, particularly the Kochs. |
| Continental Resources | Corporation | Oklahoma | OK-based shale oil company with a large and profitable fracking operation |
| Coors brewing family | Koch Investor | Colorado | The Coors gave money to Oliver North to fund the Iran-Contra operation |
| Council of Conservative Citizens (CoC) | | | |
| Ted Cruz | Politician | Texas | |
| Jefferson Davis | | | |
| Kim Davis | Public Sector | Kentucky | Former county clerk of Rowan County, KY who defied a US federal court order to issue marriage licenses to gay couples in 2015 |
| Devos family | Koch Investor | | Founders of the Amway marketing empire; Betsy DuVos was the Secretary of Education under Trump |
| Amadou Diallo | | New York | a West African immigrant mowed down by 41 shots from police when leaving his apartment on February 4, 1999. |
| James Dobson | Media personality | | conservative talk-show host and fundamentalist Christian who strongly advocated spanking and corporal punishment be applied liberally to children |
| Chester Doles | | | Former KKK leader who runs the white supremacist American Patriots USA. Nearly beat a Black man to death in 1993. Marched in 2017 in Charlottesville. |
| Rod Dreher | Extremist | | Benedict Option author and traditionalist |
| Dinesh D'Souza | Media personality | | Conservative gadly who alleged that Obama was "African" in outlook rather than American, absorbing his "radical" views from his Kenyan father |
| Doug Ducey | Politician | AZ | Governor of Arizona |
| Aleksandr Dugin | Extremist | Russia | Russia's primary fascist political philosopher and originator of Eurasianism conspiracy theory |
| David Duke | White Supremacist | | |
| John Eastman | Political Operative | | Ran against Kamala Harris in 2010 for California AG, then showed back up in 2020 to write an outrageous op-ed that Newsweek for some reason actually published, that claimed that she was "secretly" not a US resident and therefore not eligible to be the VP! Now the Kamala Harris birther |
| Myron Ebell | Political Operative | | Outspoken climate change skeptic, who headed the Trump transition team for the EPA |
| Election Integrity Project California | Extremist | | Election fraud group working with Leonard Leo |
| Larry Ellison | Businessperson | | Gave $5 million to Marco Rubio |
| Cassandra Fairbanks | | | |
| Jerry Falwell, Jr | Televangelist | | |
| The Family | Lobbyist | | Shadowy DC group with tremendous sway in Congress and around the world, following a distorted "strongman Jesus" version of Christianity. |
| The Federalist Society | Extremist | | |
| Scott Fitzgerald | Politician | WI | House Republican |
| Michael Flynn | Cult Leader | | |
| For America | PAC | | |
| Nathan Bedford Forrest | | | |
| Fox News | Corporation | | |
| Free Congress Foundation | | | |
| Freedom Caucus | Politician | | |
| Freedom Partners | Kochtopus | | The Koch Brothers' secretive donor club. |
| FreedomWorks | Extremist | | |
| Matt Gaetz | Politician | | |
| Kevin Gentry | Kochtopus | | VP of Special Projects and VP of the Koch Foundation |
| Greg Gianforte | Politician | | body-slamming Guardian reported Ben Jacobs while running for a GOP House seat in Montana |
| Newt Gingrich | Media personality | | |
| Tim "Baked Alaska" Gionet | White Supremacist | | |
| Rudy Giuliani | Politician | NYC | |
| GiveSendGo | | | "Christian" donation platform |
| Barry Goldwater | Politician | AZ | |
| Seb Gorka | Political Operative | | |
| Billy Graham | | | |
| Madison Grant | Political Operative | | Close personal friend of Herbert Hoover who helped draft the exclusionary Immigration Act of 1924 -- the Stephen Miller of his day. His "Passing of the Great Race" was beloved by Hitler as "his bible." |
| Chuck Grassley | Politician | | Senator |
| The Great Awakening | | | |
| Marjorie Taylor Greene | QAnon | GA | |
| Eric Greitens | Politician | MO | |
| Harold Hamm | Kochtopus | | Billionaire founder of Continental Resources, an OK-based shale company with large fracking business & one of the charter members of the Kochs' donor circle. |
| James Henry Hammond | Extremist | | |
| Warren G. Harding | Politician | | Enthusiastically supported the white-supremacist work of Lothrop Stoddard et al |
| Billy James Hargis | Extremist | | |
| Orrin Hatch | Politician | | Sen. Orrin Hatch raised concerns about funding certain entitlement programs. "I have a rough time wanting to spend billions and billions and trillions of dollars to help people who won't help themselves, won't lift a finger and expect the federal government to do everything," he said. |
| Josh Hawley | Politician | MO | Missouri Senator funded by Peter Thiel who gave the January 6 mob a fist bump on his way in to object to certifying the electoral count |
| Matthew Heimbach | Extremist | | White nationalist and one of the founders of the Traditionalist Workers Party |
| Jesse Helms | Politician | | |
| Leona Helmsley | | | |
| Diane Hendricks | | WI | The wealthiest woman in Wisconsin at $3.6 billion |
| Heritage Foundation | Think Tank | Washington, DC | |
| Honest Elections Project | Extremist | | A conservative legal organization connected to Leonard Leo that files legal briefs to SCOTUS opposing mail-in ballots and other voting reforms that help more people to vote, |
| Herbert Hoover | Politician | Washington, DC | White supremacist and wealth supremacist, he was adamant about doing nothing to help people during the Great Depression. |
| Mike Huckabee | Politician | | |
| Laura Ingraham | Media personality | | Fox News host |
| Andrew Jackson | Politician | Deceased | US President |
| John Birch Society | Extremist | | |
| Andrew Johnson | Politician | Deceased | US President |
| Chuck Johnson | Media personality | | Alt-right super troll |
| Ron Johnson | Politician | | Wisconsin Republican Senator who supported Donald Trump, promoted ivermectin for covid, and said he wasn't afraid of the January 6 mob because they were white people |
| Alex Jones | Media personality | | Host of InfoWars, the 9/11 conspiracy show that put the genre on the map |
| Jim Jordan | Politician | OH | A long-time Tea Party hyena, the Congressman known as Gym once helped his buddy cover up decades of sexual abuse of young wrestlers in their care. |
| Judicial Education Project | Extremist | | A legal group tied to Leonard Leo, working to advance conservative takeover of the judiciary. |
| Islam Karimov | Oligarch | Uzbekistan | Former Communist official who became the first president of Uzbekistan in 1991, and remained the country's dictator until his death in 2016. |
| Alex Kaschuta | Media personality | | Right-wing podcaster |
| Brett Kavanaugh | Judge | DC | |
| Dr. D. James Kennedy | | | creating a Dominionist "conversion" playbook |
| John F. Kennedy | Politician | Deceased | |
| Robert F. Kennedy | Politician | Deceased | |
| Anna Khachiyan | | | |
| Martin Luther King | Activist | Deceased | Civil Rights leader in the 1960s, and enemy of Southern politicians |
| Charlie Kirk | Media personality | | |
| Walter Kirn | Author | MT | Up in the Air author and disaffected former member of the American intellectual class |
| KKK | White Supremacist | | |
| Bill Koch | Businessperson | | |
| Charles Koch | Kochtopus | Kansas | industries: pipelines, oil refineries, lumber and paper, coal, chemicals, commodity futures, etc. |
| David Koch | Kochtopus | Deceased | industries: pipelines, oil refineries, lumber and paper, coal, chemicals, commodity futures, etc. (now deceased) |
| Fred Koch | Kochtopus | Kansas | Father of Charles and David, Fred Koch was an early and fervent acolyte in the ultra-conservative John Birch Society |
| Frederick Koch | Businessperson | New York | |
| David Koresh | Cult Leader | Waco, TX | |
| Ku Klux Klan (see KKK) | White Supremacist | | |
| Kylie Jane Kremer | | | |
| David Lane | White Supremacist | | Member of the white supremacist group The Order who coined the 14-word slogan popular with Great Replacement adherents: "We must secure the exisatence of our people and a future for white children" |
| Ken Langone | Businessperson | | Founder of Home Depot |
| Lyndon LaRouche | Cult Leader | | |
| Robert LeFevre | Kochtopus | | Charles Koch's mentor, a quasi-anarchist, who said, "government is a disease masquerading as its own cure" |
| Leonard Leo | Extremist | | Chairman of the Federalist Society, a legal organization working to pack the courts with conservative judges. |
| Marine Le Pen | Politician | France | |
| Honor Levy | | | |
| Liberty Counsel | | | Christian special rights group |
| The Liminal Order | | | |
| William S. Lind | Political Operative | | |
| Kelly Loeffler | Politician | Georgia | Insider trading immediately upon arriving at her unelected Senate seat when her husband, President of the NYSE, found a way to have some money arrive at Brian Kemp, the Governor, who appointed her. |
| Dana Loesch | Media personality | | NRA spokeswoman |
| Sen. Huey Long | Politician | Deceased | |
| Thomas Mair | Extremist | | Assassin of British MP Jo Cox, who was outspoken against the UK's Brexit campaign |
| Paul Manafort | Lobbyist | | |
| Clarence Manion | | | |
| Blake Masters | Politician | AZ | |
| John McAfee | Businessperson | Deceased | |
| Sen. Joseph McCarthy | Politician | Deceased | Senator best known for his demagoguery against alleged Communist agents in the US government during the Cold War in the early 1950s |
| Kevin McCarthy | Politician | CA | |
| Michael McKenna | Kochtopus | | Lobbyist and President of MWR Strategies lobbying firm, who have the Koch brothers as clients |
| Timothy McVeigh | Extremist | Oklahoma City, OK | White supremacist McVeigh was a disgruntled former military guy who took up with the white power movement and executed the Oklahoma City bombing -- as inspired, he said, by enacting "revenge" for Waco. |
| Andrew Mellon | Businessperson | | |
| Rebekah Mercer | Oligarch | | Daughter of NY hedge fund manager Robert Mercer; she helped guide the Trump transition team following the 2016 election, and funded right-wing social network Parler |
| Robert Mercer | Oligarch | | Father of Rebekah Mercer and longtime right-wing donor |
| MicroChip | | | Pro-Trump bot-king |
| Stephen Miller | Extremist | | |
| Michael Milken | | | |
| Cleta Mitchell | Extremist | OK | Lawyer who represented various right-wing entities including the NRA, and was considered the "fringe of the fringe" -- at age 70 she "represented" Trump during his telephone call to Brad Raffensperger asking him to find ~11,000 votes |
| Semion Mogilevich | Criminal | | Notorious Russian mob boss |
| Stefan Molyneux | Media personality | | Alt-right troll |
| Sun Myung Moon | Cult Leader | | Leader of the Moonie cult and self-proclaimed deity, Mr Moon served time in federal prison for tax fraud, among other charges. |
| Roy Moore | Politician | AL | Trump-backed politician and pedophile who narrowly lost the Alabama Senate race to Doug Jones in 2018. |
| JP Morgan | Businessperson | | |
| Rupert Murdoch | Oligarch | | Fox News owner famous for his amoral media |
| Jack Murphy | | | |
| Benito Mussolini | | | |
| MWR Strategies | Kochtopus | | Lobbying firm for the Koch brothers |
| Dasha Nekrasova | | | |
| neo-Nazis | Extremist | | |
| Terry Nichols | Extremist | | Blew up the Oklahoma Federal Building with Timothy McVeigh |
| Richard Nixon | Politician | | |
| Ralph Norman | Politician | | House Republican who skirted the metal detectors to enter the House floor after the January 6 insurrection |
| NRA | Extremist | | National Rifle Association |
| NYPD | Public Sector | | New York Police Department |
| Barack Obama | Politician | Chicago, DC, Los Angeles | The 44th President of the United States, and the first black person to hold the job. He was widely loathed by the Right despite his positive record. |
| John M. Olin | Kochtopus | | Chemical and munitions company titan |
| Viktor Orban | Politician | | Radical right president of Hungary and Putin supporter |
| The Order | | | White supremacist group |
| Candace Owens | Extremist | | |
| Matt Parrott | Extremist | | Co-founder with Matthew Heimbach of the Traditionalist Workers Party |
| Laszlo Pasztor | | | |
| Norman Vincent Peale | Businessperson | | Christianity as a business man's religion |
| Mike Pence | Media personality | | Donald Trump's VP |
| Rick Perry | Politician | | |
| Scott Perry | Politician | | House Republican who skirted the metal detectors to enter the House floor after the January 6 insurrection |
| Jordan B Peterson | Academic | | A sort of hero figure to the incel crowd |
| William Pierce | | | |
| Pioneer Fund | | | A white supremacist group set up for "race betterment" in 1997 at a private club. |
| Jeanine Pirro | Media personality | | Fox News host known for having a bit of a drinking problem and a brash on-air personality |
| Mike Pompeo | Public Sector | | Sec of State after the firing of Rex Tillerson; former CIA Director; former Republican congressman from KS and largest recipient of Koch campaign funds in all of Congress |
| Jack Posobiec | Media personality | | |
| Lewis Powell | Businessperson | | Wrote a 1971 memo that rallied the largely white and male business community around a plan to dismantle the New Deal and the liberal consensus |
| Sydney Powell | Political Operative | | Also Associates with UFO believers and anti-vaxxers |
| Proud Boys | Extremist | | Militia group involved in the January 6 coup attempt |
| Thomas Pyle | Businessperson | | president of the American Energy Alliance, funded by Exxon and the Kochs |
| QAnon | QAnon | | Conspiracy theory about Democratic pedophiles that recycles Nazi ideology |
| Jean Raspail | Author | France | French author of the 1973 Camp of the Saints novel about migrants organizing to take over France; the racist fiction inspired the white power movement of the 1980s, Steve Bannon, and a host of other fascist movements in Europe, America, and around the world |
| Nancy Reagan | Media personality | Deceased | |
| Ronald Reagan | Politician | Deceased | Actor and Republican who became the 40th President from 1981 through 1989 |
| Kyle Rittenhouse | | | |
| Pat Robertson | Televangelist | | |
| Dylann Roof | | | |
| George Romney | | | |
| Mitt Romney | Politician | UT | |
| Murray Rothbard | Extremist | | |
| Dave Rubin | | | |
| Richard Mellon Scaife | Koch Investor | | Heir to the Mellon banking and Gulf Oil fortunes, and Koch donor |
| David Schnare | Political Operative | | "Free-market environmentalist" who accused the EPA of having blood on its hands, who joined climate change denier Myron Ebell on the Trump transition team for the EPA |
| Stephen Schwarzman | | | Finance |
| Rick Scott | Politician | | |
| Jeff Sessions | Politician | AL | |
| Marc Short | Political Operative | | Ran the Koch Brothers' secretive donor club, Freedom Partners, before becoming Mike Pence's senior advisor during the 2016 presidential transition |
| Sinclair Broadcasting Group | Corporation | | |
| Paul Singer | Koch Investor | | Finance (Elliott Management hedge fund). Supported Rudy Giuliani. |
| SNCC | Non-profit | | |
| Social Contract Press | White Supremacist | | A racist publishing company, part of the Tanton Network, that published the white nationalist novel Camp of the Saints |
| Richard Spencer | White Supremacist | | |
| Balaji Srinivasan | Businessperson | | |
| State Policy Network | Kochtopus | | Funded in part by the Kochs |
| Dan Stein | White Supremacist | | President of Tanton Network organization FAIR |
| Lothrop Stoddard | White Supremacist | | Author of the 1920 book The Rising Tide of Color Against White World-Supremacy |
| Roger Stone | Lobbyist | | |
| Richard Strong | Businessperson | | Strong Capital Management Mutual Fund |
| Sen. Robert Taft | Politician | | |
| John H. Tanton | White Supremacist | Michigan | White nationalist who organized The Tanton Network of 13 anti-immigrant organizations |
| Tea Party | PAC | | Intensely antitax group |
| Peter Thiel | Businessperson | Los Angeles, CA | Eccentric Silicon Valley billionaire and pocketbook for the New Right project |
| Clarence Thomas | Judge | Washington, DC | |
| Ginni Thomas | Political Operative | Washington, DC | |
| Three Percenters | Extremist | | Militia group who had a heavy presence at the January 6 attempted coup |
| Traditionalist Workers Party | Extremist | | |
| Turning Point USA | Extremist | | Charlie Kirk's right-wing PR organization |
| Unabomber | Criminal | | |
| Unification Church | Cult Leader | | |
| Unite the Right | Activist | Charlottesville, NC | Charlottesville, NC event in 2018 where white supremecist groups marched with tiki torches, and activist Heather Hyer was killed by a right-wing extremist who drove his car through the crowd. |
| University of Texas at Austin | Academic | Austin, TX | |
| JD Vance | Politician | OH | Venture capitalist and Peter Thiel acolyte running for Senate in Ohio |
| Ricky Vaughn | | | |
| Ruben Verastigui | Criminal | DC | Former RNC and other GOP offices staffer who made social media ads for the Trump campaign and was later arrested with child porn on his phone after a DHS sting. |
| John Vinson | Extremist | | Head of the Tanton Network-backed anti-immigrant hate group American Immigration Control Foundation (AICF) |
| George Wallace | Politician | Alabama | |
| Joe Walsh | Media personality | | |
| Kelli Ward | Politician | AZ | GOP Chair |
| Ron Watkins | Extremist | | Identified as the most likely suspect to be Q of QAnon |
| Randy Weaver | White Supremacist | Naples, ID | |
| Vicki Weaver | White Supremacist | Naples, ID | |
| Weev | White Supremacist | | Andrew "Weev" Auernheimer |
| Paul Weyrich | White Supremacist | | Arch-deacon of the New Right ultraconservative movement and hugely influential figure who founded the Heritage Foundation, Council for National Policy, and ALEC. |
| White Citizens Councils | White Supremacist | | |
| Geert Wilders | | | |
| Darren Wilson | Public Sector | | Police officer who brutally killed a Black man, Michael Brown, in Ferguson, MO in 2014. |
| WikiLeaks | Foreign agent | | |
| Milo Yiannopoulos | Media personality | | |