Professor Altemeyer has studied authoritarianism and the authoritarian personality since 1966. He first published a refinement of Theodor Adorno's work on authoritarian personalities, known as the Right-Wing Authoritarian Scale in 1981. In 2006, Bob Altemeyer The Authoritarians was slated to be his last work pending retirement — but in 2020 a new work co-authored with Watergate whistleblower John Dean titled Authoritarian Nightmare: Trump and His Followers aimed to warn America about the dangers of Donald Trump's personality to unleash the very worst in the very worst sorts of individuals.
Meanwhile Bob has made The Authoritarians available free of charge here, and I absolutely encourage you to read it — it's fascinating stuff and he's an entertaining as well as informative writer. In this post I'll do my best to summarize the main points of the book, because I know people are busy and not everyone has time to read a whole book much less scrape together hours to volunteer and do activist work.
Bob Altemeyer The Authoritarians
Dr. Altemeyer defines authoritarianism as "something authoritarian followers and authoritarian leaders cook up between themselves." Followers submit blindly to the leaders and give them too much free rein to do anti-democratic, brutal, and tyrannical things. Power corrupts absolutely, and power seems to corrupt authoritarians most of all.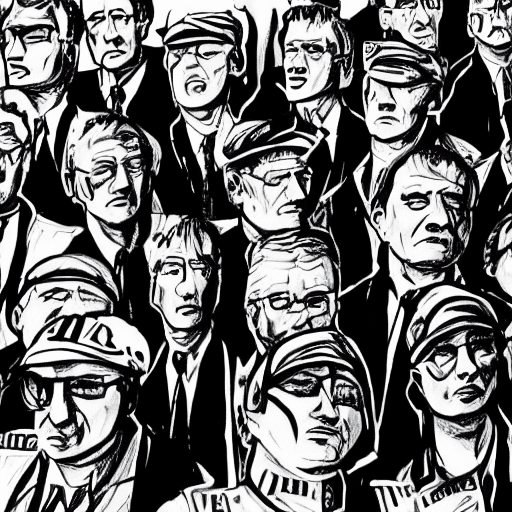 He classifies the authoritarians into three primary groups:
Authoritarian followers

— typically this group follows the established authorities in their society, including government officials, clergy and traditional religious leaders, business leaders, and self-appointed gurus of all stripes. They tend to have a "Daddy and Mommy know best" approach to the government, believing that authorities are above the law. Psychologically, authoritarian followers exhibit a high degree of submission to authorities they accept as legitimate, high levels of aggression in the name of those authorities (if so called upon), and a high degree of conventionalism and conformity. They tend to be bigots, with prejudices against many types of groups.

Authoritarian leaders

— tend to be Social Dominators, who long to control people and affect others' lives. They are overall highly prejudiced, do not believe in the American value of equality, and feel justified in wielding great power over society with little qualification and even less self-reflection. They believe the world is divided into wolves and sheep, and they have no qualms fooling the sheep into opening the pasture gate so they can eat. "Might makes right" is their personal motto.

Double Highs

— about 10% of any given sample score highly on both the social dominance test and the right-wing authoritarian scale, which is odd given the social dominator's otherwise reluctance to be submissive. They exhibit extra prejudice and extra hostility — beyond either the social dominators or the RWAs. They tend to be the "religious" social dominators, who had a fundamentalist upbringing, or had a conversion experience as an adult (George W. Bush, e.g.) and now tend to believe in some form of Strict Father Morality.
More traits of authoritarian followers
They tend to feel more endangered in potentially threatening situations that most people do (think: Dick Cheney's descent into bunker mentality after 9/11)
More afraid than most people; they tend to have overactive amygdalas
Were raised by their parents to be afraid of others — both parents and children have told researchers so
More likely to issue threats than low authoritarians
Most orthodox — were raised fundamentalist and are highly repressed
Most hardline
Believe "whatever I want is right"
Paradoxically, want to "be normal" very badly — they tend to get tugged by the people around them
Authoritarian aggression
Authoritarians prefer not to have fair fights out in the open — they tend to aggress when they believe their hostility is welcomed by established authority, or supports established authority. They also often aggress when they have an obvious physical advantage over the target — making women, children, and others unable to defend themselves as ideal targets. These cowards have the gall to feel morally superior to the innocent victims they assault in an ongoing asymmetrical warfare between supremacists and marginalized groups.
To make matters worse, authoritarians do their dirty deeds in the shadows and scream bloody murder at anyone who dares try and expose their dark secrets to the light. Their theatrical and performative self-righteousness is just an act to avoid accountability and responsibility for what they do — even unto themselves.
Moreover, authoritarians are extra punitive against lawbreakers they don't like (though exceedingly permissive for lawbreakers they *do* like, which is infuriatingly hypocritical), because they believe fervently in the value of punishment. Many advocate child corporal punishment — spanking and worse — for children as young as 1 year old. Authoritarian followers tended to report feelings of "secret pleasure" when hearing of the misfortunes of high school classmates who had misbehaved, believing they got what they deserved in life.
It would be accurate to think of authoritarians as "little volcanoes of hostility," almost heat-seeking their way into authority-approved ways to erupt and release their pent-up anger. Many of them do not, and will not ever realize that their fundamentalist upbringing has sadly left their brains underdeveloped, and ill-equipped to navigate the modern world with its rapid changes, accelerating inequality, advancing climate change, and political instability.
Lethal Union
When a social dominator becomes an authoritarian leader, and leads his authoritarian followers down malevolent roads from informing to threatening to vigilanteism, researchers refer to this state of affairs as a "lethal union." It's a highly dangerous and volatile time for a democracy, one warranting caution and vigilance from concerned citizens.
Throughout history, these are the situations that tend to devolve further into aggression, political violence, civil war, genocide, and worse. We need to be very damn careful about who we elect as our leaders — we cannot allow our government to be captured by special interests and the narrow, quixotic delusions of old billionaires outshining daddy and staving off death.
More books about authoritarians
If you've already read Bob Altemeyer The Authoritarians, or you're just looking for more resources on authoritarianism — here's a list to get started:
More resources on authoritarianism
The authoritarian personality is characterized by excessive strictness and a propensity to exhibit oppressive behavior towards perceived subordinates.
This dictionary collects definitions and charts the rise of language, ideology, tactics, and historical movements of American authoritarians.
We are facing an unprecedented crisis of democracy under attack by a roster of extremists, hardliners, theocrats, plutocrats, and others of their ilk.