We have endured much together these past 2-3 years, Team America. Thankfully our civil society is incredibly robust — and time is accelerating demographic gains in an inexorably democratic direction. As Boomers give way to Millennials — slated to happen as early as this year — we are experiencing a seismic shift in the national consciousness.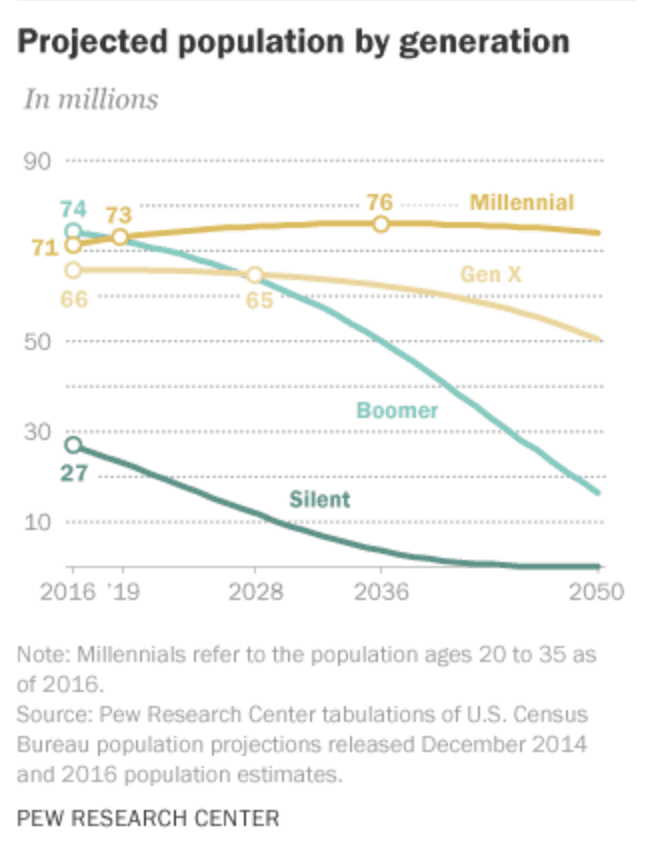 Our values as a nation-state have always been evolving as the political consciousness and cultural landscapes shift, but in recent political times the changes have been radical, seemingly sudden, and jarring in a way that collective memory does not easily recall. I believe we are witnessing the swan song of a generation — the largest post-WWII generation dominant demo for decades, now facing only the long decline.
Much is said of the Hillbilly Elegies of our country, but to be fair these elders are legitimately terrified: of the U.S. they see around them today — bearing little resemblance to the nation of their boomingly patriarchal childhoods; of the world outside our borders and the immigrants (theoretically; allegedly) streaming into them illegally; of long disused portions of America drying up and economically (and in some cases literally) tumbleweeding away; of their own impending mortality.
We go high
Michelle Obama was right. Is right. We should make ourselves aware of the kinds of games the other side is willing to employ, but endeavor not to play them ourselves as much as we can. But beyond a moral reason to love thy neighbor, there's the practical matter that we may find common cause in surprising territories. Non-wealthy elder whites and young Millennials who struggled through the 2008 housing and banking crash both have reason to want a robust safety net, for example. This is the essence of democratic politics done well: coalition-building — not among special interests, but among elected leaders representing their constituents in good faith.
The arc of justice
…goes at its own pace, or something like that. Fascism has a creep (or at the moment, more of an open stride), and justice has a methodical process of evidence-gathering and weighing; we can have some solid faith in the latter to do its work. Regardless of the levels of bitter partisanship in the air, we have an enormous cadre of professional civil servants who do their often thankless jobs tirelessly for years and decades out of the limelight, for sub-private sector pay and little recognition. This cohort works tirelessly for us now, investigating the many tentacles of the Trump corruption operation stretching back years and decades into American life and foreign investment.
Mr Mueller, do your worst. By which I mean your best. We understand each other, I think. 👍🏽⚖️