Fascism is a specific type of authoritarianism. Both are forms of government characterized by tightly centralized power, either under a sole dictatorship / demagogue or a small cadre of rulers — typically of wealthy oligarchs — where rule is absolute and the vast majority of people have little say in policy-making or national events. Identifying authoritarianism vs. fascism isn't always a clearcut distinction, particularly given that one of the hallmarks of fascism is often that fascist leaders tend to conceal or hide their ideological aims until they achieve power and sometimes even beyond — so as not to alert the public to their true plans until it's too late for people to fight back.
Under both authoritarianism and fascism, there is little or no political freedom and few (if any) individual rights. Authoritarian governments often use force or coercion to maintain control, dissent is typically suppressed, and political violence is tacitly encouraged so long as it is in support of the ruling regime.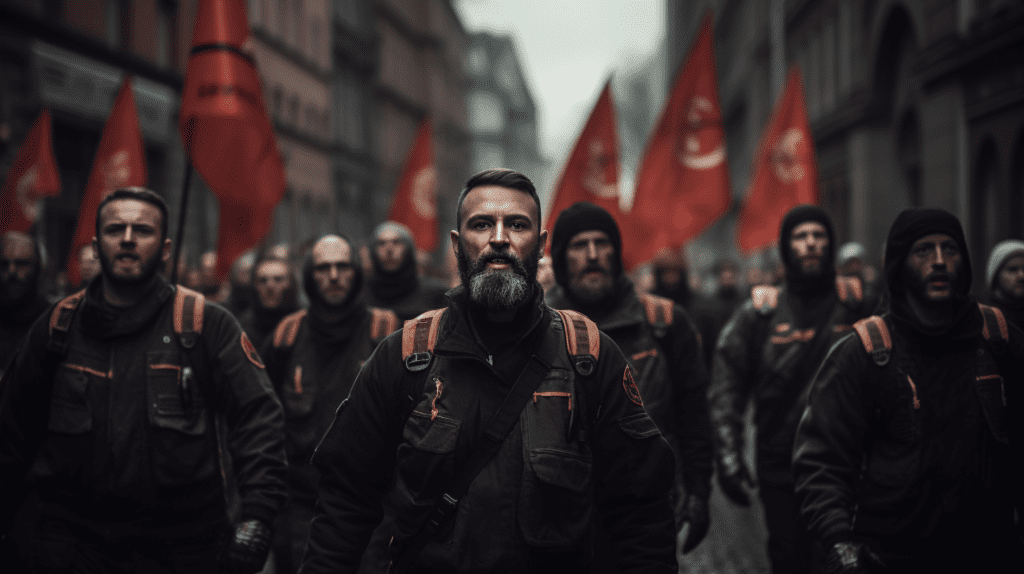 Fascism is one type of authoritarian political system
Fascism is a type of authoritarianism with distinct ideological features that emerged in the early 20th century. In addition to the core characteristics of authoritarian government, fascism is typified by extreme nationalism, a belief in the superiority of one's own race or nation (a form of collective narcissism), and propaganda about both a mythical past and a promised utopian future. The idea of hierarchy is central to fascist mythology, with a core belief in a "natural" social hierarchy that — curiously — must be maintained by force.
Fascist regimes often promote aggressive foreign policies and use violence and intimidation to suppress opposing views. Other key features of fascism include a cult of personality around the leader, a focus on traditional values, and the use of propaganda to control public opinion.
Fascist regimes of the 20th century
Italy (1922-1943): Italy was the birthplace of fascism, and under the leadership of Benito Mussolini, it became the first fascist regime in the world. Mussolini and his National Fascist Party came to power in 1922, and ruled Italy as a one-party state until he was deposed in 1943.
Germany (1933-1945): Nazi Germany, led by Adolf Hitler and the National Socialist German Workers' Party, was a fascist regime that came to power in 1933. The Nazi regime was known for its extreme racism, antisemitism, militarism, and aggressive expansionism, which ultimately led to World War II and the genocide of the Holocaust.
Spain (1939-1975): After a bloody civil war, General Francisco Franco established a fascist dictatorship in Spain in 1939. Franco's regime was characterized by authoritarianism, repression, and a focus on traditional Catholic values.
Portugal (1932-1974): Portugal was ruled by a fascist regime under the Estado Novo (New State) government, led by Antonio de Oliveira Salazar, from 1932 until 1974. The Estado Novo government was characterized by authoritarianism, nationalism, and corporatism.
Romania (1940-1944): Ion Antonescu, a military dictator and fascist sympathizer, came to power in Romania in 1940. Antonescu's regime was characterized by anti-Semitism, political repression, and a close alliance with Nazi Germany.
Hungary (1944-1945): Hungary was ruled by a fascist government under Ferenc Szálasi and the Arrow Cross Party from 1944 until the end of World War II. The Arrow Cross regime was known for its extreme anti-Semitism and brutality.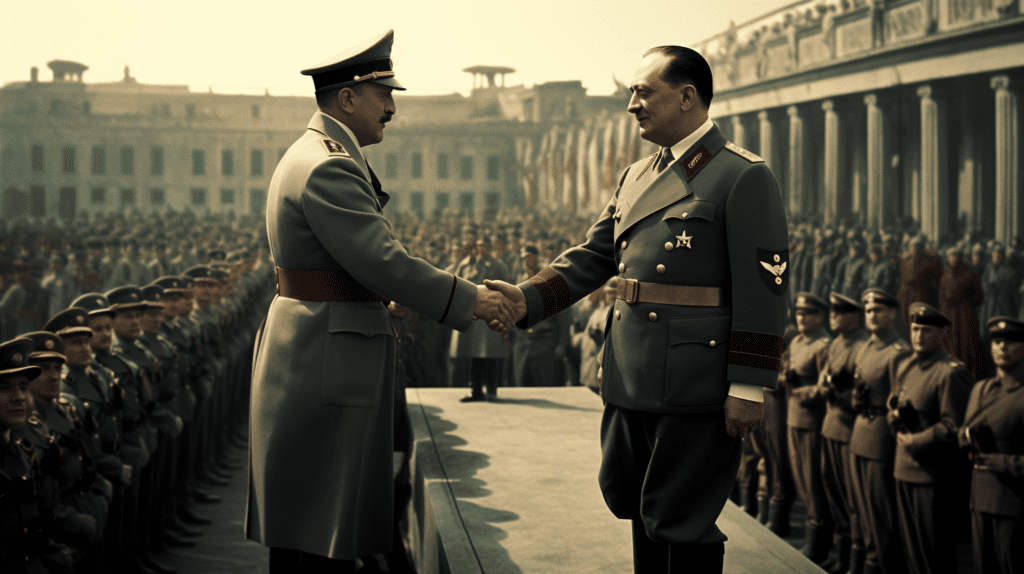 The cognitive dissonance of fascist ideology
One of the many things I find problematic about fascism's core belief system is its insistence on enforcing a "natural" social hierarchy. Personally, I find this to be something I call a "self-evident falsehood" — because if the social hierarchy were really natural, it would not require force to maintain it. It would exist in a state of natural equilibrium that does not require the expenditure of effort.
Applying violence and coercion to a population requires a considerable amount of work, and work comes at a cost — a cost factor that is both an unnecessary waste and a destabilizing force acting on society. Those who claim today in America to be upholding the nation's "original ideals" would do well to remember the self-evident truths we fought a Revolution over: "that all men are created equal."
Authoritarian regimes in world history
Authoritarianism is an older and more prevalent form of government than fascism, given its origins over 2000 years ago with the Roman Empire. Some of the most notable authoritarian regimes are as follows:
The Roman Empire (27 BC – 476 AD): The Roman Empire was a vast and powerful empire that was ruled by an authoritarian government, after Julius Caesar overthrew the Roman Republic shortly before the turn of the millennium in 27 BC. After his son Octavian emerged victorious from a series of civil wars that followed, a succession of Roman emperors who had almost unlimited power ruled the Empire, and dissent was often suppressed with violence.
The Mongol Empire (1206-1368): The Mongol Empire was one of the largest empires in history, and it was ruled by a series of authoritarian leaders who conquered and subjugated vast territories across Asia, Europe, and the Middle East — most notably Genghis Khan.
The Ottoman Empire (1299-1922): The Ottoman Empire was a vast and powerful Islamic empire that was ruled by a series of sultans who held absolute power over their subjects.
The Soviet Union (1917-1991): The Soviet Union was a communist state that was ruled by the Communist Party and its leaders, including Joseph Stalin. The Soviet regime was characterized by totalitarianism, repression, and the suppression of political dissent.
China under Mao Zedong (1949-1976): Mao Zedong was the founder of the People's Republic of China and the leader of the Chinese Communist Party. During his rule, China was transformed into a socialist state, but the regime was also characterized by repression, mass killings, and the suppression of political dissent.
North Korea (1948-present): North Korea is a communist state that is ruled by the Workers' Party of Korea and its leader, currently Kim Jong-un. The North Korean regime is known for its extreme repression, propaganda, and human rights abuses.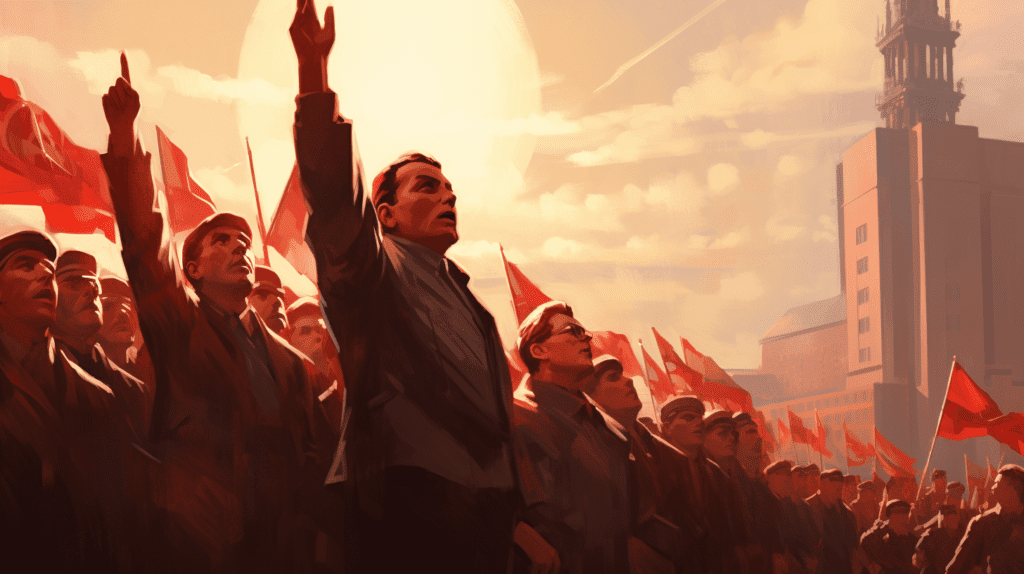 Learn More:
The authoritarian personality is characterized by excessive strictness and a propensity to exhibit oppressive behavior towards perceived subordinates.
The rise of American fascists and right-wing extremism around the world has been a trend for decades.
This dictionary of authoritarianism collects definitions and charts the recent resurgence of language, ideology, tactics, and rhetoric of authoritarians in America and around the world.
More posts on fascism.